Author:

Manuel Lemos



Viewers: 411

Last month viewers: 9

Categories: PHP community, Software Business


Many PHP developers want to have their own PHP elephant plush toy, also known as ElePHPant, because it is an important symbol of the PHP language.

Since 2018 the PHP Classes site has been working to make it available to any PHP developer.

The production process is complex, takes a lot of time to make it available for sale to all developers that want it, requires good money to invest before it starts selling, but the PHP Classes site has it now available to sell at affordable prices and great quality.

Read this article to see some pictures of ElePHPants that customers and collaborators received from the PHP Classes sites and also to learn how you can get one or more PHP Elephants being delivered to you with free shipping.
In this article you will learn:
1. What is New in the PHP ElePHPant 2020 Edition?
2. Why You Need to Have Your Own PHP ElePHPant?
3. What Do You Gain by Having Your Own ElePHPant?
4. How You Can Get Your Own PHP ElePHPant with Free Shipping?

5. Is the PHP ElePHPant Affordable at the Current Price?
Conclusion
1. What is New in the PHP ElePHPant 2020 Edition?
The 2020 edition of the PHP ElePHPant produce by the PHP Classes site is an improvement to adjust few details to match better the original design by Vincent Pointier. We receive feedback from a few customers regarding the trunk and the mouth of the ElePHPant.
Other details like the eyes that are stitched rather than done in plastic remained from the initial 2018 version. This is good as it is important to avoid using materials that depend on resources that are running out like oil, as plastic comes from oil.
The stitches are done in cotton which is a material that comes from plants that grow by receiving solar power. Solar power is a renewable form of energy. Therefore the use of these materials promotes a more sustainable use of the planet natural resources.
We did a new prototype that was approved by Vincent Pointier, the designer of ElePHPant. Below is a picture of the 2020 Edition of the ElePHPant.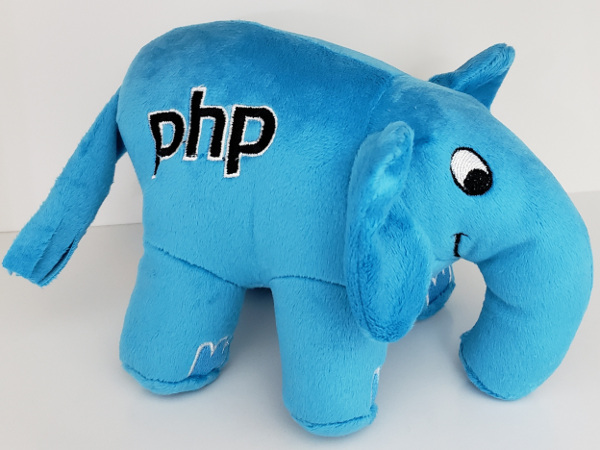 2. Why You Need to Have Your Own PHP ElePHPant?
The ElePHPant is a very important symbol of the PHP language. Created by the reputed French designer Vincent Pointer, it became a great object of desire for thousands or maybe millions of PHP developers around the world.
Having your own PHP ElePHPant is like making a statement that you are one of us. Many of the most dedicated PHP developers that we know have one or even a collection of ElePHPants that vary mainly in color. All of them are very cute.
There are even sites dedicated to share pictures of the collections of ElePHPants that many PHP developers have like the A Field Guide to Elephpants site or the ElePHPant.me site.
If you do not yet have your own ElePHPant, now it is a good time to get your own.
3. What Do You Gain by Having Your Own ElePHPant?
Apart from demonstrating yourself as a dedicated PHP developer, you can also place your own ElePHPant in a nice place near the computer that you use to develop your PHP projects, as you may see in these pictures of the ElePHPant shared by some of the PHP Classes customers and collaborators.
Here is a picture shared with us by Massimiliano Consigli after he got the PHP ElePHPant he bought from us.
Here is a picture of the ElePHPant that Teye Heinmans bought and received in March 2020.
Here is another nice picture, in this case from Stefan Kablowski that was really kind to make a nice card with a greetings card to all PHP developers next to the ElePHPants that he bought from us.
Notice the happy face of this developer that got the ElePHPant as prize for participating in the PHP Innovation Award.
4. How You Can Get Your Own PHP ElePHPant with Free Shipping?
There are two ways for you to get your own ElePHPant.
a) The Hard Way: Participate in the PHP Innovation Award
The PHP Programming Innovation Award is a initiative started by the PHP Classes site in 2004 to distinguish PHP developers that share innovative useful PHP code packages.
Award winners and nominees may pick prizes provided by several sponsors. The PHP Classes site itself is one of the sponsors. The site gives away one PHP ElePHPant as prize for a winner or nominee author that picks that prize first. The author that gets this prize will have it shipped for free at his address.
Usually the PHP ElePHPant is one of the first prizes to be picked. You also need to have one package to be nominated to the innovation award first, receive many votes from other developers to your package, and wait at least 2 months to be able to pick the ElePHPant prize.
So it may be hard for you to get the PHP ElePHPant this way, as only one nominated author can pick this prize on each month.
b) The Easy Way: Buy from the PHP Classes E-Commerce Section
If you want to get it faster, you can buy your PHP ElePHPant now from the PHP Classes e-commerce section for PHP ElePHPants.
The PHP Classes site can have it shipped to you anywhere in the world wherever you are. It also provides free shipping options available to deliver the ElePHPant to many countries.
If you would like to give or buy additional ElePHPants for you or for your friends, family or colleagues, there are packages available to deliver multiple ElePHPant units in the same package, thus saving money because the average unit cost is lower for packages with more ElePHPant units.
5. Is the PHP ElePHPant Affordable at the Current Price?
Having your own ElePHPant with you is mainly a matter of time and will power. The price of an ElePHPant is really low when compared to the money that you may be paid for your developer work.
Even if you just make $10 per hour of your work, it only costs 4 hours of you work to pay for 1 ElePHPant. Many PHP developers make much more than $10 per hour when they are paid for consulting work.
Of course developers that live in countries with undervalued currencies may not make as much money. We understand that. In that case, those developers need to learn more skills to be better developers and be able to charge more money for their work. Soon we will teach you more on this, so do not loose hope of being able to afford your own PHP ElePHPant, as we will help you with that soon.
So it is really up to you. If you are an established PHP developer, money is not a really good excuse for not buying an ElePHPant. When compared to the value of your work, the cost of buying an ElePHPant is quite affordable for many PHP developers.
Conclusion
If you have time to share great innovative PHP packages and want to take the chance to win an ElePHPant as prize, you can try contributing your packages to the PHP Classes site, so you can try becoming a winner of the PHP Innovation Award.
If you are busy with your PHP developer work and you do not have time to share any innovative packages, you can get your ElePHPant faster by going to the PHP Classes shopping section and buy as many ElePHPants as you want from there.
You need to be a registered user or login to post a comment
Login Immediately with your account on:
Comments:
No comments were submitted yet.